We have been teaching Kyokushin karate at Kenridge Primary for approximately 12 years.
At Kenridge Pre-Primary the children can start training from the age of 4 – 6 years. At the Primary school we cater for age groups from 6 years to approx. 14 years.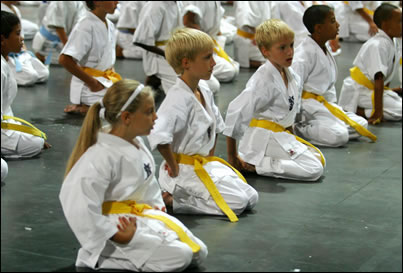 The benefits that this holds for your child are:
Improved co-ordination and balance
Greater awareness and control of the body
Healthy exercise
Increased confidence
Gradual improvement of focus and concentration
Emphasis on respect and courtesy
Creates a sense of discipline and self discipline
Counters bullying and blustering
Builds a positive self image

The class times:
Pre-Primary:
Tuesdays – just after school
12:45 – 13:15
Primary school:
Mondays & Thursdays
Tuesdays & Wednesdays
15:30 – 16:30
14:30 – 15:30
Children must attend two (2) classes per week. The higher grades (From green belt on) can train 3 hours a week at no extra cost.
We are Internationally registered and our instructors get International tuition from instructors from Japan.
We also have training camps and tournaments for kata and kumite (fighting).
If you have any questions, please feel free to contact the office on 021 913 3084.
Karate Greetings
Hennie Bosman: 8th DAN
International Chairman Kyokushinkan Africa