Saxophone
Saxophone lessons are recommended at a later age (10 years and older), as a saxophone is a physically, heavy instrument. Playing the saxophone requires good breath control and physical strength. If your child is interested in playing the saxophone, we suggest that he / she first attends an audition before you buy or rent the instrument. Playing the saxophone can be highly enjoyable, especially when learners reach the standard when they can play in an ensemble.  During lessons, attention is given to breath control, technique, repertoire, sight reading and aural training. A learner must have his / her own saxophone, or you can hire an instrument. The saxophone is a single reed instrument and reeds must be replaced approximately every 4 – 6 months. The instrument also has to be serviced once a year.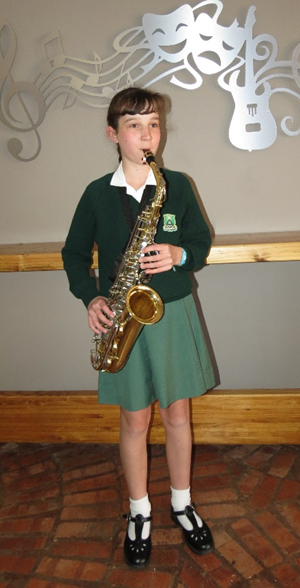 Participation in external examinations, the Eisteddfod and other concerts, is recommended after a student has reached a certain standard.
Educator:  Adri van Wyk
Lesson options: 25 minutes (once per week).